"Weird Tales" echoes the meaning of the fictitious artistic name Interesni Kazki, for those who understand Ukrainian and familiar with the work of the famous duo. Initially formed by the duo Waone and Aec, Interesni Kazki translates to Interesting Fairy Tales. After over 15 years of collaborative work, the duo split up. Both artists are successful in their separate careers but their work develops differently. Thus, Waone began to experiment with black and white on the walls. At the same time, he keeps surprising us with the unusual and imaginative range of characters, elements, and symbols of bright colors. Weird Tales is the series of painted and drawn stories. It consists of different artworks with their own worlds and shows to spectators various aspects of the reinvented surreal universe. Each artwork is like a seed, which could be grown into a big tree of many other stories. Similarly to the whimsical vintage covers of the popular American fantasy and horror fiction magazine, Weird Tales collection by Waone represents different stages of his work.
My fellow countryman Vladimir aka Waone Interesni Kazki gave us an exclusive interview about his latest show.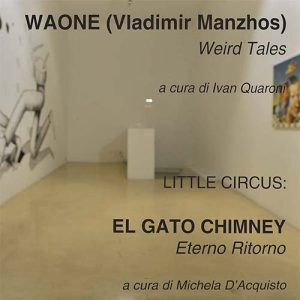 Tell us about the idea for the show in Antonio Colombo Gallery?
First of all, I should say that it was a contemporary art gallery, which is very important for me! I love to paint murals, but I'm trying to move from street art into the contemporary art world. Because, my goal is attain perfection – to develop my art, make it more and more sophisticated with each new artwork, which is almost impossible with the current situation in the street art world.
I got an offer from Antonio Colombo in April to do my solo show at the end of September, which looked crazy for me. I was afraid that five months is extremely a short time to prepare for the solo show. Then we decided to invite our old friend and great artist – El Gato Chimney to do a project in Little Circus Room (special room inside the main art space). And I started to work. First of all, I rented and equipped the studio space, which I'm very happy with. Then we postponed the opening to October 12th, which gave me the possibility to paint four more pieces. So, I worked hard and am happy about the work I did. It was a great experience which allowed me to see my real potentials in studio work.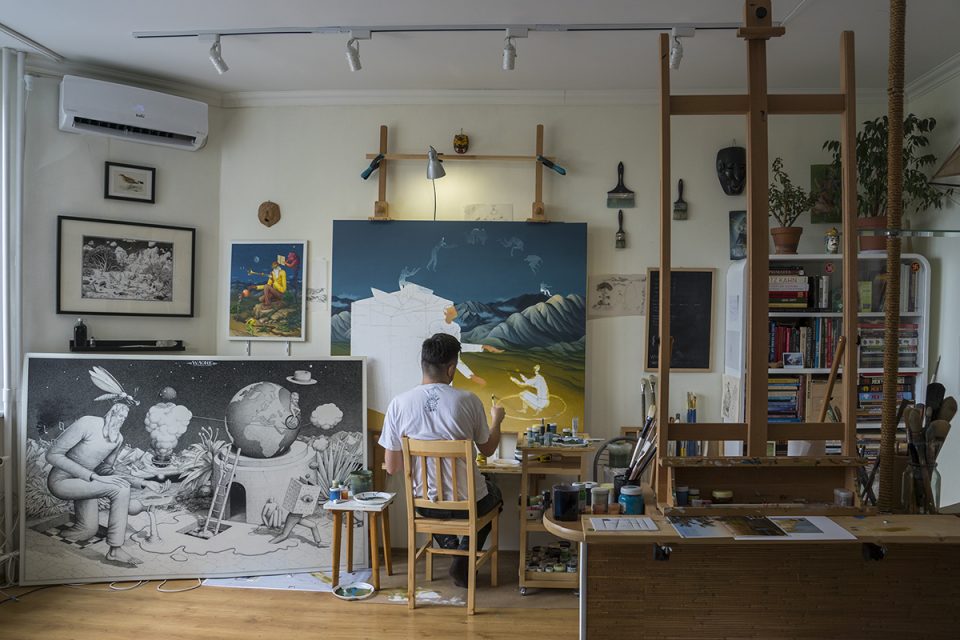 I was lucky to visit your new studio in Kiev when you prepared for this show! It was fabulous! Just like a personal museum of you with a beautiful artistic atmosphere. I could stay there forever… How much time did you spend in your studio for this show and how many artworks were selected in total?
For only four and a half months I did one ink+acrylic drawing on a big size canvas (120x180cm), which took me 35 days to paint.  This is a continuation of my black and white practice on walls. The name of it is "To the End of Time". I also had one colorful painting 120x150cm, titled "Spiral of Life", which took me three weeks. Then I did two middle-sized detailed drawings and one smaller. And in September-October I did two middle-sized colorful paintings "The Seed of Good Ideas" and "Prisoned Mind", as well as one ink drawing on middle-sized canvas "Fascinating Tale". We also displayed some of my old work at this show. Among them painting on paper "Magician of Magreb" which was based on the mural I did in Morocco in April; Ink and acrylic work on linen, which I did in February, and two ink drawings from 2015.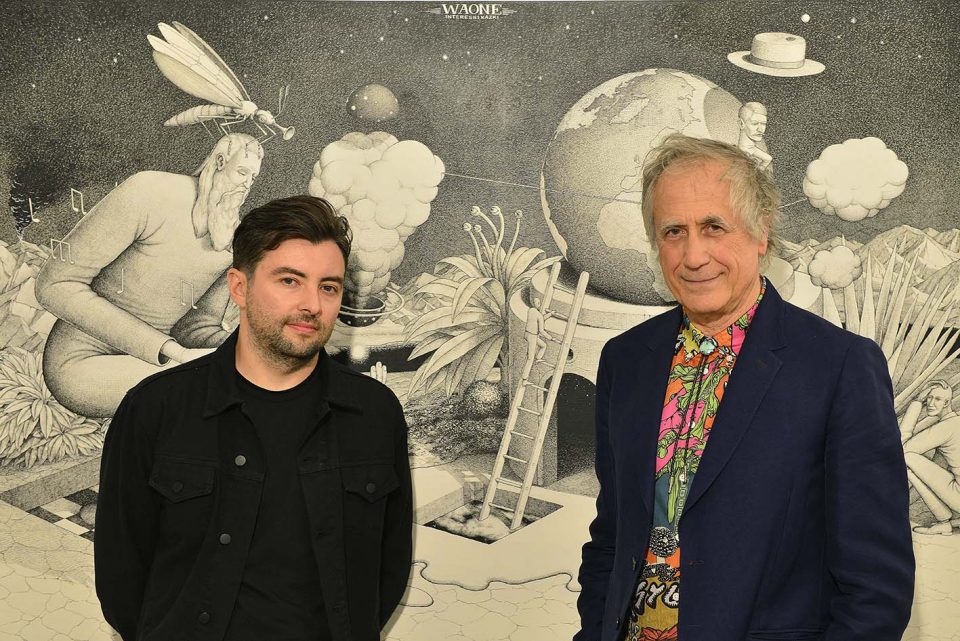 The works of Weird Tales basically sum up all the motifs of Waone's art. For example, there are the cubical boxes that remind us of Renaissance magic squares (Spiral of Life, The Planetary Motion and To the End of Time), but also miniature planispheres and heavenly gates that open space-time passages towards other dimensions. There are the large bearded heads that emerge from the ground, like personifications of the spirit of the planet, the gilded cages that imprison man (Prisoned Mind) and, finally, the books of wisdom that free the mind, urging it to investigate the dimension of the unknown (Untitled and Beta To Alpha Transition). – Review by Ivan Quaroni, the curator of the show.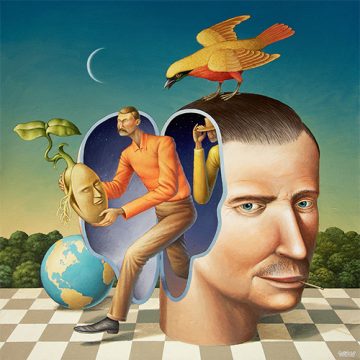 What did you experience during all these months of working in the studio? Any new ideas in technique? 
I always keep myself in a permanent state of creative research. I'm not happy with my results and trying to find new ways to develop my art all the time. Most of the time from these five months was a consolidation of my preceding ideas and developments. So only after that, I could be able to get something new in my creative development. Only in my last two pieces, I found what I was looking for. I tried to work in a realistic way on some human and nature details, and I like it a lot, this is the way where I'm going now in my art.
How was the opening night?
The opening went great, so many people came which I didn't expect. And especially was a big surprise to meet some Italian artists like Pixel Pancho, 108, Mr.Wany and many others which I was not familiar with. Also, some local collectors came, which we had a nice dinner with after the opening.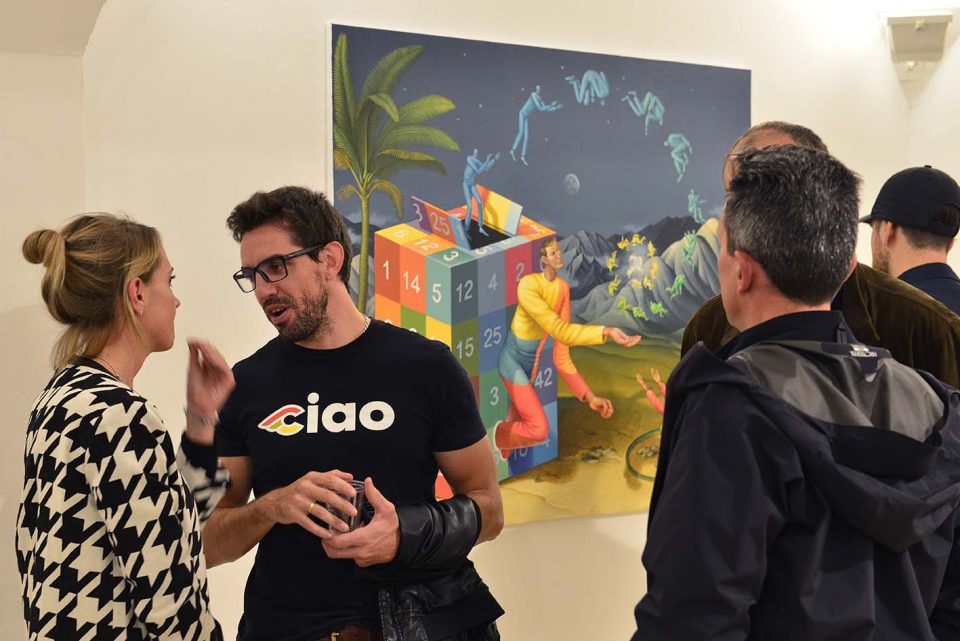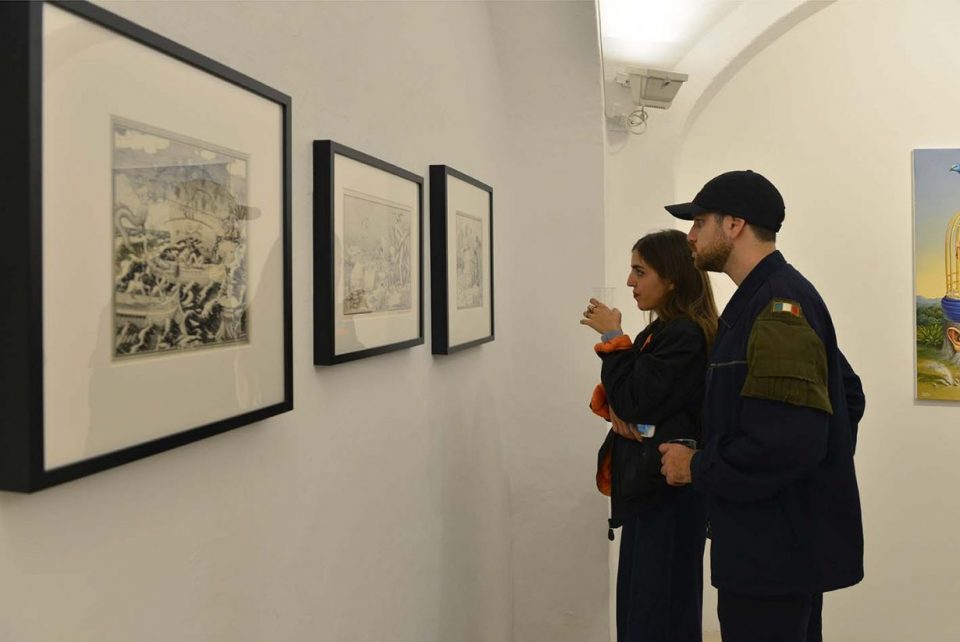 I also noticed a small black and white mural in the interior at the show….
Yes, it wasn't really a planned mural. I kept working on canvases until the last moment before my flight to Milan. I came up with the idea right in the gallery and spend just a half of the day painting it. My fastest mural ever.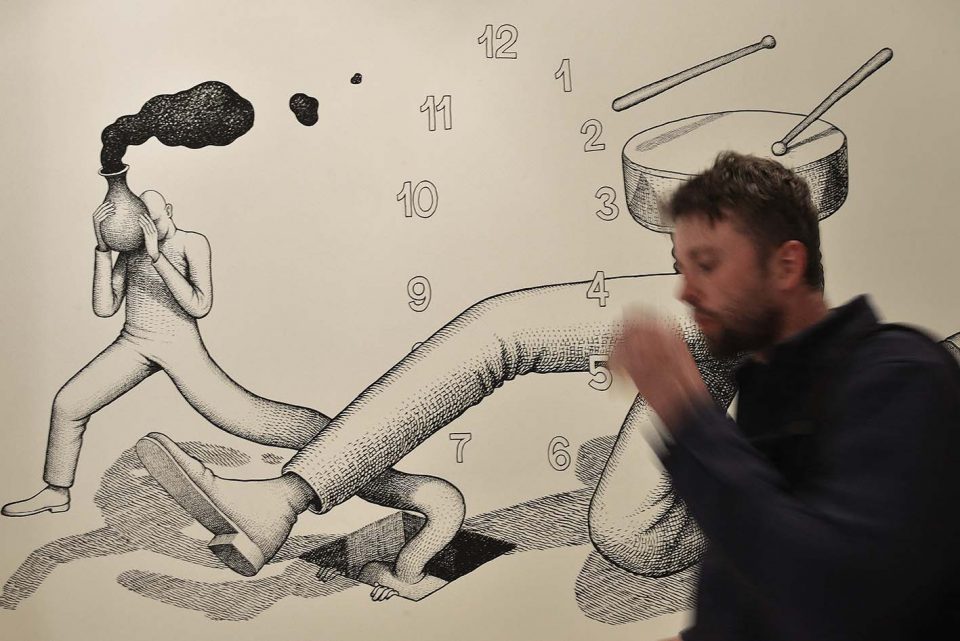 What's next? What are your closest plans?
Now I'm working on some new pieces for one gallery project in London. Then I have an interview with David Lynch for Vogue Ukraine, which is extremely new thing for me. Then, I'm giving a lecture about street art in Ukraine in the School of Fine Arts in Paris. When I come back, I will work on the print edition of Street Art News. Finally, I want to come back to my ideas of paintings that I wanted to work on.
About The Artist
Artistic name WAONE, came from a real name Vladimir, popular in Slavic countries, and it is a short friendly version as well. «Вован» (sounds like [Vavan]) was popular in post-soviet 90's but written as Wa-One, which also refers to hip-hop aesthetics.
Vladimir was born in 1981 near Kyiv. His father was an art lover and a collector of local art and rare orthodox icons. Their home was full of art books and Soviet magazines with perfect hand-painted illustrations. Vladimir interested in art for the first time in early childhood when he was 4-5 y.o. The art career of Vladimir Manzhos more known as Waone, begun in 1999. Few years after he has been painting graffiti as a member of Ingenious Kids crew in Kyiv. In 2003 he got bored of letters and together with Aec went to the next level of public art – visual storytelling. They have been painting big surreal murals with fantastic stories. They developed their unique style of contemporary muralism with an extraordinary ephemeral form of monumental art. In 2005 Waone and Aec established an artist duo – Interesni Kazki, which means «Interesting fairy tales» in Ukrainian. Their murals are full of fairy characters, fine details, smooth gradients, symbols, and stories. Next 10 years duo travel a lot. Inspiring by local cultures and traditions they paint murals expressing local flavor. Now their bright surreal paintings decorate the walls from Australia to Mexico and from San Francisco to Moscow. Early 2016 Vladimir established new direction in his mural painting – black and white murals. 2016 was the last year of Interesni Kazki as an artist duo. Since May 2016 Waone works as a single artist. Art for Waone is a way to perfection and a portal to divine worlds. His artistic goal is to make high divine values accessible to every man.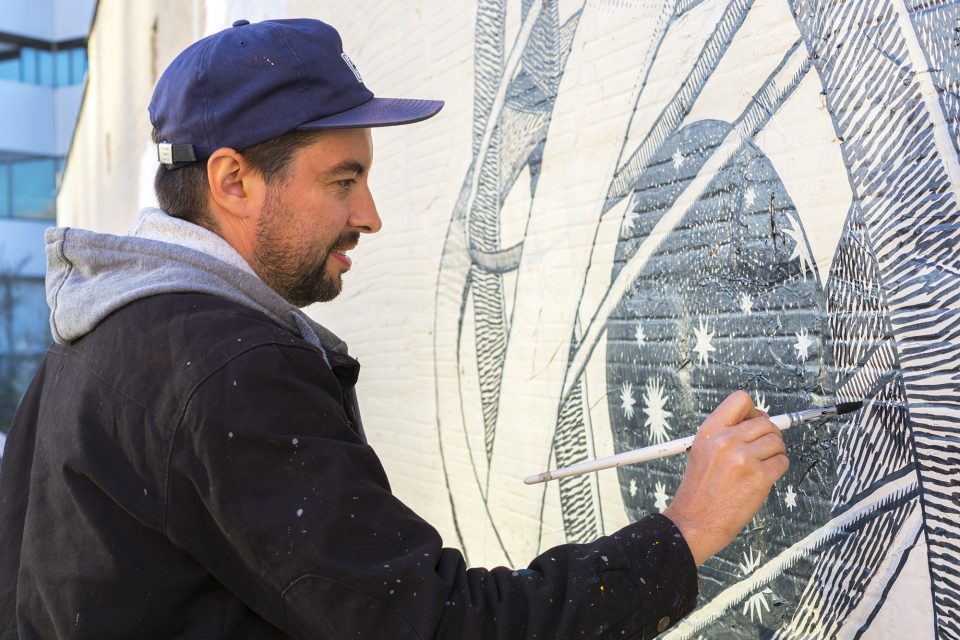 Images by the artist and Iryna Kanishcheva. 
Originally published for Street Art United States.
---