What is the best way to see New York you have never seen before? The capital of graffiti has developed a lot in this contemporary art form for the last 30 years. Plenty of artists from around the world created murals in New York and the surrounding areas. Some linger on, while others vanish as soon as they appear. It seems to be impossible to see them all. This is the truth! But there is a way to make the mission easier, comfortable, and time-saving.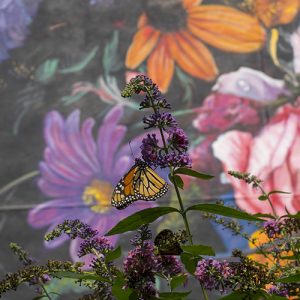 Street Art United States and Iryna Kanishcheva got together to explore the area using the Street Art Mural Tours program.
It provided three different guided tours: Kingston, NY, Upper West Side/Hamilton Heights, Newark/Jersey City and , guided by professionals in the field. According to Michael Pisacane,  founder and guide of Street Art Mural Tours, the mission of the project is to give groups of people a truly unique experience in the lap of comfort, to give an educational experience and to raise awareness of the neighborhoods where the art exists. Ultimately, the mission of Street Art Mural Tours coincides with our mission – to promote the street art movement.
About The Tours
Kingston, NY
Let's start with something Positive. O+Festival was founded in 2010 by a small group of artists-activists, doctors and a dentist. They built long-term relationships between creatives and health & wellness providers to help strengthen local communities. Every year O+ celebrates a one-day and weekend-long event, during which, underinsured artists and musicians create and perform in exchange for a variety of services donated by doctors, dentists and complementary care providers.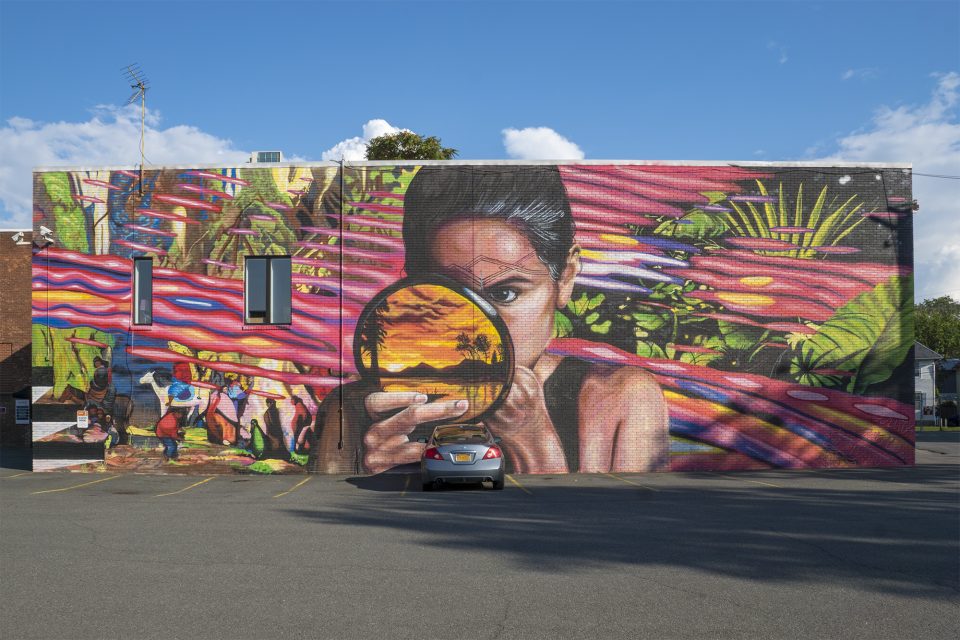 "I was motivated to start Street Art Mural Tours in June when I was in Kingston NY for the 3rd annual art auction for O+. I was helping set up for the event when I saw this beautiful luxury Mercedes couch turn onto N. Front St. and I immediately directed the driver to park in Front of the pop-up gallery. Once he pulled into the space it was love at first sight. Haha. I knew I had to work with this man. His enthusiasm was infectious and we fed off of each other's energy. That was when I cooked up the idea of partnering with Tom to give tours." – Shares with us Michael Pisacane.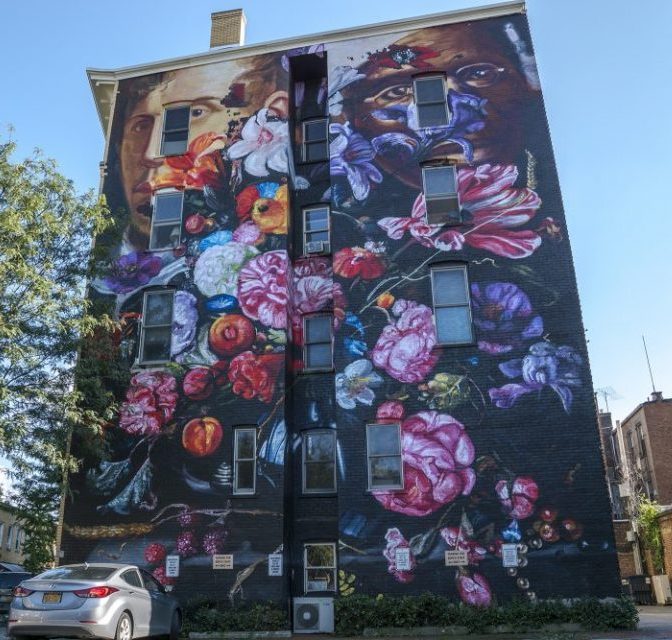 Our guide Michael is a board member, volunteer and a big supporter of the project. He was introduced to the O+ Festival in 2013 when his son, a well-known young artist Gaia,  was commissioned to paint a mural in the back wall of the old Reade Theater (currently BSP). Michael visited Kingston to watch his son working and met Joe Concra and Denise Orzo. He was completely swept up in the love and support his son was receiving. The mural is now a destination and inspired Michael to return as a festival volunteer in 2015 and as a guide in 2017.
Besides Gaia, you can find murals by Mata Ruda, Lunar New Year, Nils Westergard, the most recent one by Jess X Snow, and more.
The weekend of art, music, wellness and community opens this Friday, October 6th – 8th and features more than 50 bands! Artistic line up incleduesI 20 visual, installation and performance artists. It also includes the much-loved kickoff parade, EXPLO+RE classes in yoga, dance, meditation and more,cycling events for all skill levels, Wellness EXPO+ and Literary SALO+N. New this year: O+ has teamed up with the Good Work Institute to present the HO+ME Economics conference at O+. Find out more details by visiting the project's website.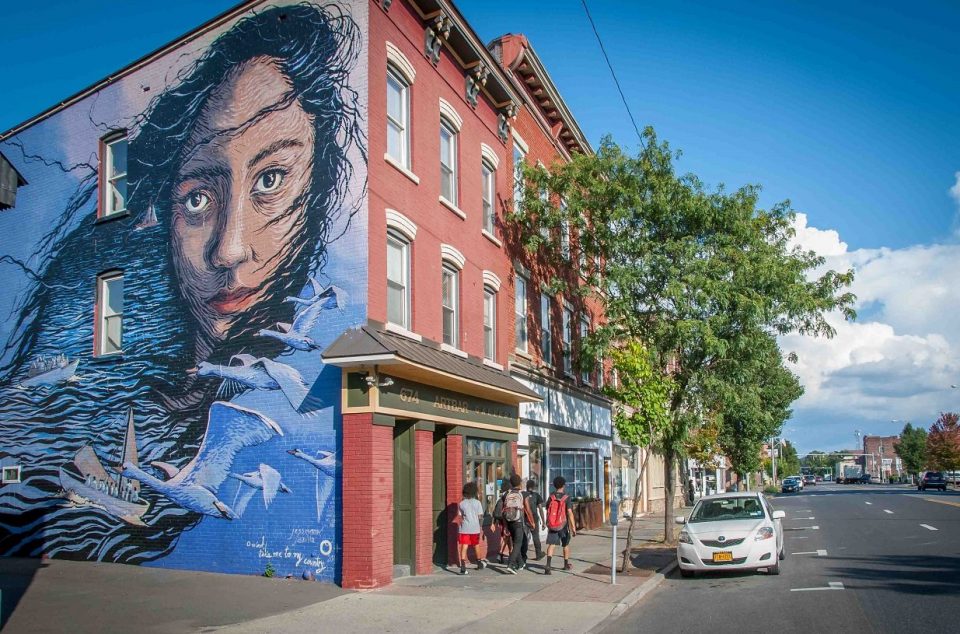 Newark, NJ
If you are ever in Newark, you wouldn't miss this mural on Route 21, as it sees more than a million drivers every month. The mural collage stretches nearly a mile and a half down McCarter Highway (Route 21), starting at the Edison Parking Lot overpass. Painted on the barren Amtrak retention wall that runs alongside the train-lines ends at the on-ramp to Routes 1 & 9. Consisting of 15 panels, it is the largest mural on the East Coast, the second-largest in the country. Organized by "Gateways to Newark" initiative, the Downtown District is partnering with area artists and volunteers to beautify entry points into the city.  From our guide we learned that artists painted overnight for seven days, from 9 p.m. until 5 a.m., shutting down a lane of traffic and the traffic lights along McCarter Highway.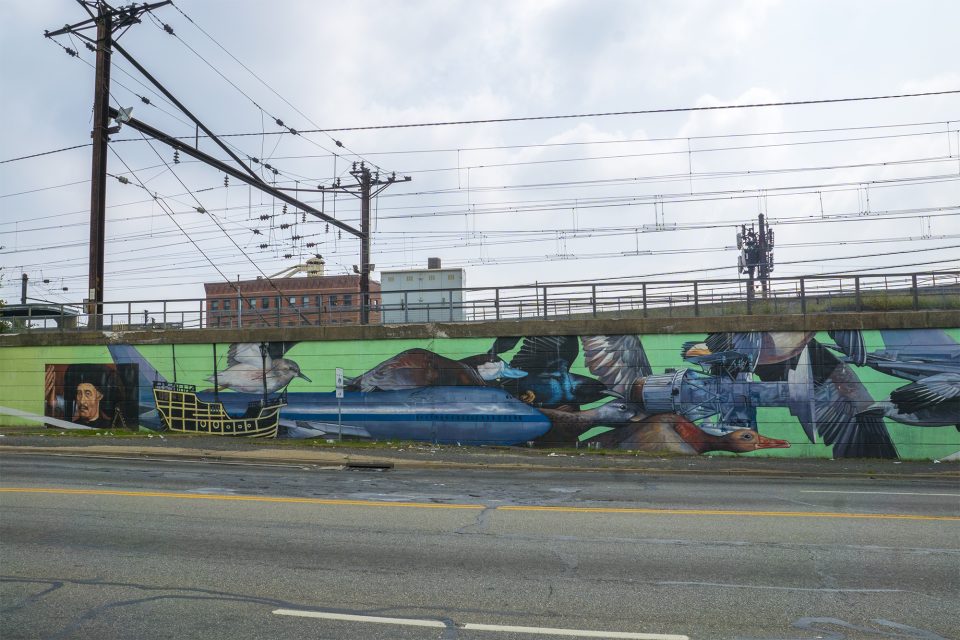 The first panel depicts the port of Newark and Newark Airport that occupy approximately one-fifth of the city's geographic footprint. The mural straddles the rail line that proceeds to New York Penn Station, and past that into Long Island — along a border that divides the historically Portuguese (and more recently Brazilian and Central American) neighborhood of the IronBound from downtown Newark. After the Second Great Migration, Newark became a predominantly black city and an intellectual platform of radical black politics after WWII. In addition to Newark's preeminent position as a transportation hub, the Meadowlands that define the surrounding environment is a welcoming respite for a diverse range of migratory birds that commute between the hemispheres according to the seasonal changes. For this reason, the mural features migratory birds, two airplanes, Henry the Navigator and a caravel in his fleet. It also portrays Garcia II Nkanga a Lukeni a Nzenze a Ntumba, who is also known as Garcia Alfonso for short. Alfonso ruled the Kingdom of Kongo from January 23, 1641, to 1661; he is sometimes considered Kongo's greatest king for his religious piety and his near expulsion of the Portuguese from Angola. Hence the piece depicts a Black Jesus and Black Madonna figure too.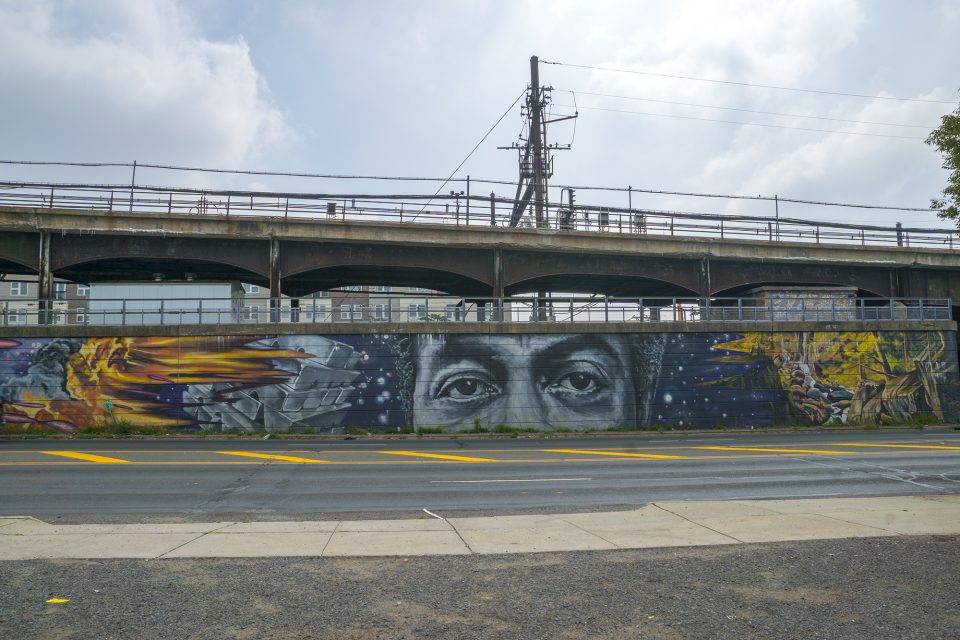 Nanook's mural is informed by the work, particularly a social essay by the late Amiri Baraka, and his desire for a person to be an individualist. His mural creates parallels, to poetic lines through form and color. More information about each section can be found at the Gateways to Newark website.
"A man is either free of he is not" – Amiri Baraka.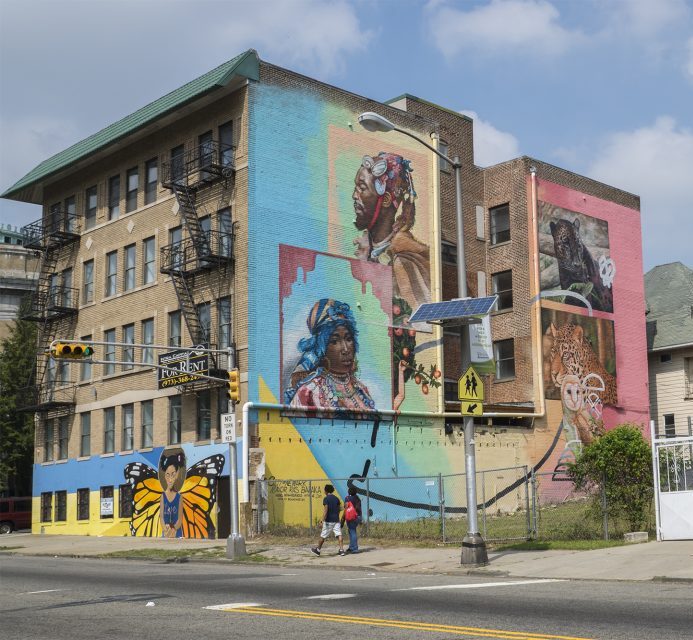 Further, as always very meaningful murals by Gaia, this one of his Newark works hints that we all are genetically similar. According to Gaia, two portraits by Catalan orientalist painter Jose Tapiro represent the Moors of the Maghreb of Berber descent. Noble Drew Ali taught that African American people were of Moorish roots from North and West Africa and were thus Islamic by faith. Behind the two portraits, the milky white arm of Eve reaches for the forbidden fruit (painting by Lucas Cranach the Elder, 1528) referencing the genesis of humanity but also of racial revisionism by Europeans. To the right are portraits of two Leopards of the genus 'Panthera'. When a leopard is melanistic they are known as 'Black Panthers'. The two animals are of the same species but their adaptation to environment sets them physically apart. A dominant gene entirely expressed in the phenotype, is responsible for the excessive melanin in the Leopard. The hieroglyphs below the two animals spell the ancient name of Egypt 'kmt', which is thought to refer to the Black Nile Delta earth. Noble Drew Ali, otherwise known as the Egyptian Adept, would lay the foundation for the Nation of Islam and black consciousness in the United States.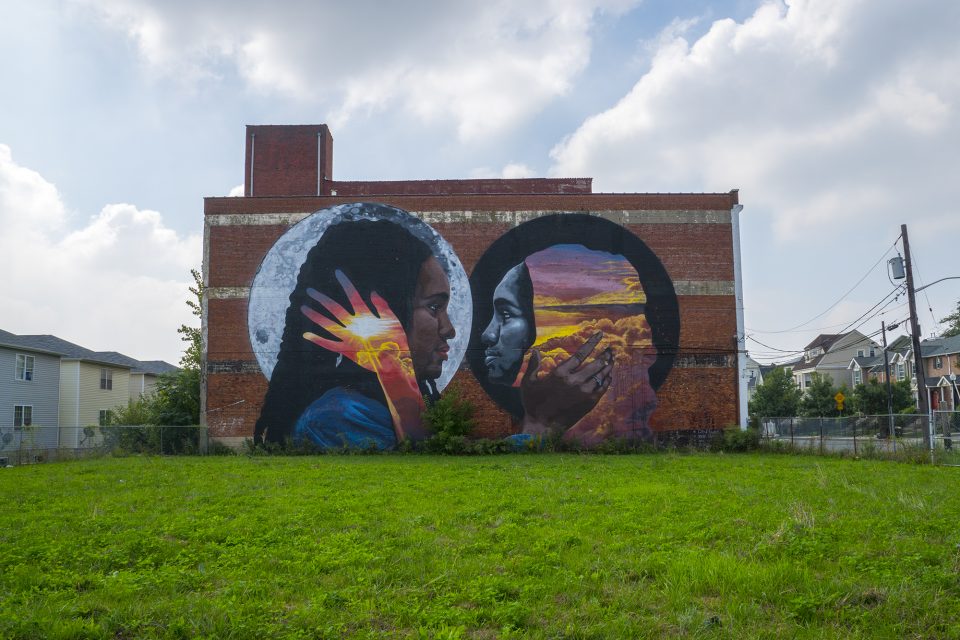 Similarly, Layqa Nuna Yawar aka Lenny aka Lunar New Year was inspired by words of Ta-Nehisi Coates to his son Samori in "Between the World and Me." One of his memoirs, so does the mural now, sends a message: "I tell you now that the question of how one should live within a black body, within a country lost in the Dream, is the question of my life, and the pursuit of this question, I have found, ultimately answers itself."
Read more about murals of the City of Newark here.
Jersey City, NJ
As part of the Street Art Mural Tours, Michael Pisacane told us the backstory on Gaia's two large-scale murals in Jersey City. Who can tell you more jokes and stories about the artist if not his father? We had a lot of fun! Our guide's interest in street art was inspired by the work of his son. He proudly showed us a well-hidden mural in Ogden's End Community Garden which is hard to find if you don't know the location. We didn't want to miss this beautiful wall (pictured below)!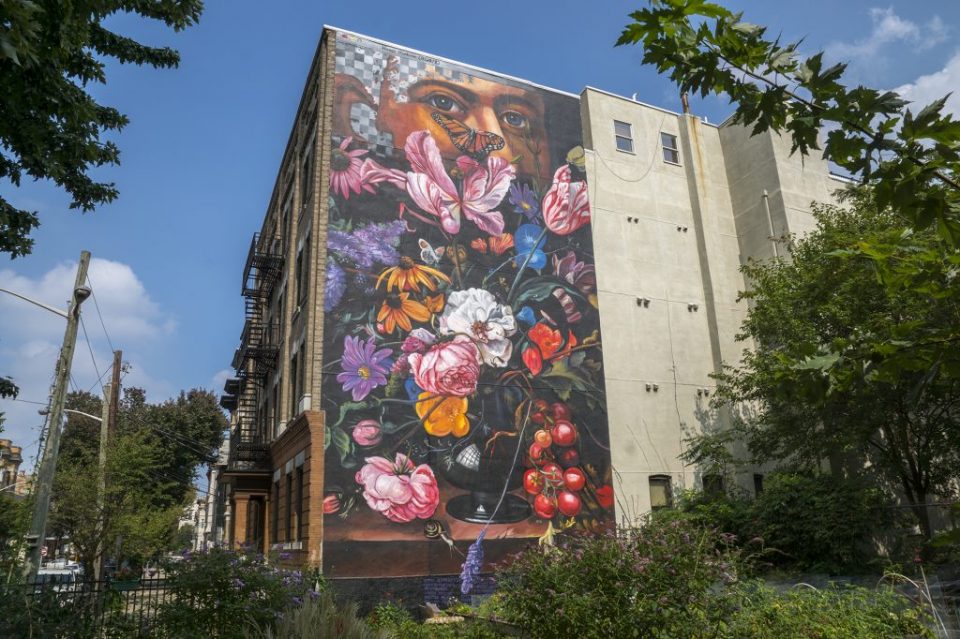 "My interest in street art was spurred over ten years ago by my son's involvement." – Michael Pisacane.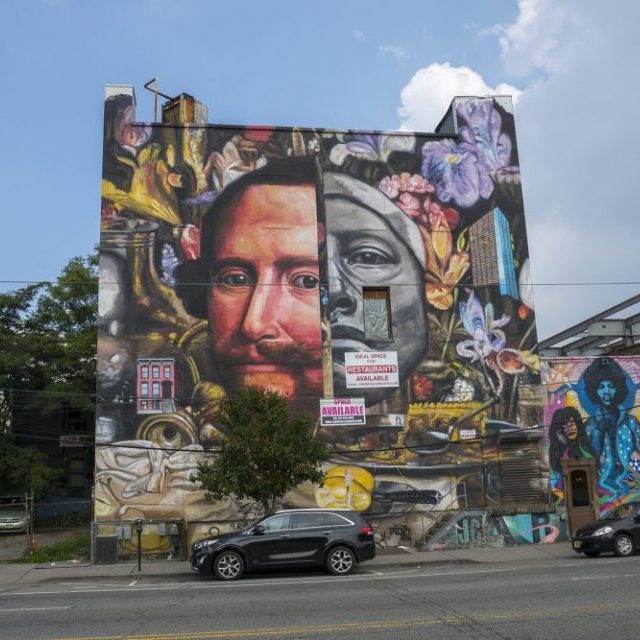 Another mural can be named controversial. It attracted a lot of media attention in 2015 because it was painted over another old mural considered to be the largest in the country 20 years ago. The original mural was created around 1990s. But by 2015 the massive wall was peeling and faded, certainly in need of a restoration. That's when the city got involved as part of the Jersey City Mural Arts Program (JCMAP) and commissioned Gaia to repaint this particular section.
Initiated in 2013 the Jersey City Mural Arts Program, along with Green Villain and Savage Habbit, independently organized projects, and turned Jersey City into the mecca of street art. Walking streets, we extremely enjoyed  interesting artworks by such recognized artists such as Fintan Magee, Faith47, Li-Hill, Zed1, Case Maclaim, Mata Ruda, Shepard Fairey, Pixel Pancho, and much more!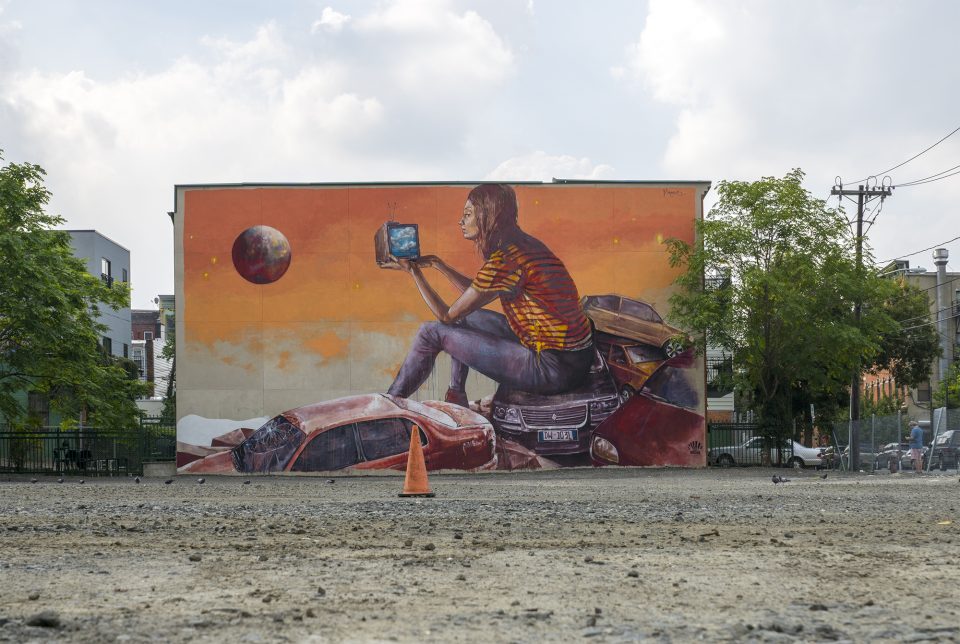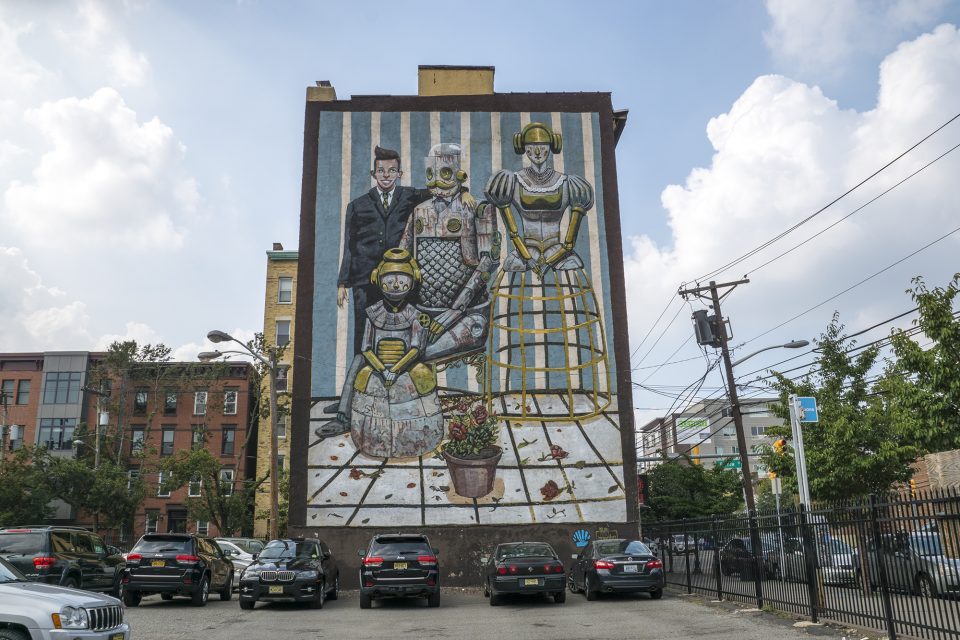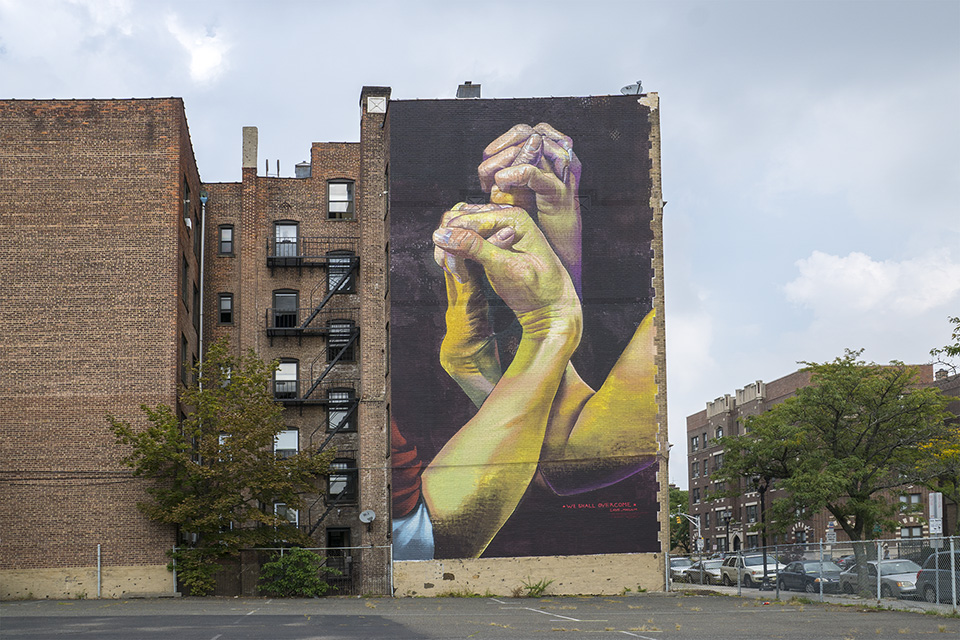 JCMAP and the Weehawken-based  Savage Habbit  recruited both local and international artists to install bold, wacky, top-notch pieces around Downtown, the Heights, and recently started covering Union City.
Upper West Side/Hamilton Heights, NYC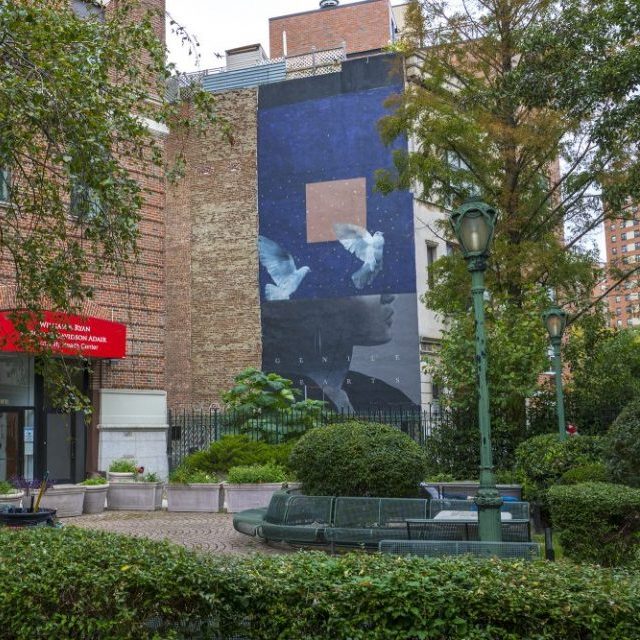 New York is full of murals, interesting hidden places and adventures, like the mural pictured on the left by Ricky Lee Gordon in Harlem. Some of them could be organized by the Street Art Mural Tours. If you are guests of the city and really into street art, do not waste your time using public transportation and searching for spots! Book a tour, folks! 😉
"Folks who book a tour can expect a unique four hour experience given by Tom and I. Tom has been giving tours for years and is a licensed NYC tour guide. Tom has earned wonderful reviews on TripAdvisor. He's worked with many of the best boutique hotels. We're collaborating on this new version of private tours." – Michael Pisacane.
To find out more about the Street Art Mural Tours visit the website streetartmuraltours.com or send an email to streetartmuraltours@gmail.com. See some murals from the tours on Facebook and Instagram.
Images by Iryna Kanishcheva. 
Originally published for Street Art United States.